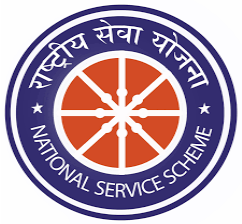 Senior Programme Officer - Dr. Anjali Verma
Programme Officer - Dr. Noor Hasan
In pursuance of the National Scheme to inculcate feeling of service towards nation and understanding of national priorities amongst youth a vision of National Service Scheme came in to existence. In accord with it NSS units in institutions like us functioning devotedly and dedicatedly. Presently we are running two unit of NSS in which students participate enthusiastically in various activities, i.e. awakening of rural and local people regarding environmental issues, conducting surveys on various important parameters, issues concerning health etc. NSS volunteers participate in day and day and night camps and can appear for NSS A, B or C certificate examination.
Motto:
The motto of the National Service Scheme (N.S.S.) is "Not Me, But You", This expresses the essence of democratic living and upholds the need for selfless services and appreciation of another man's point of view and also show consideration for fellow human beings. It underlines the welfare of an individual is ultimately dependent on the welfare of the society as a whole. Therefore it should be the aim of the N.S.S. to demonstrate this motto in its day-to-day activities.
AIM:
This programme is to inculcate the social welfare thoughts in the students, and to provide service to the society without any prejudice. NSS volunteers work hard day and night to ensure that every one in our society who is needy gets the every possible help from them so that they can also enhance their standards and lead a life of dignity in the society with all of us. In doing so the volunteers themselves learn a lot from the people in villages like how to struggle and how to lead a happy life in the extreme scarcity of resources and so on personality development through social service.
At present 01 Girls unit and 01 boys unit are running in the College with following details.
| Unit | Total Registerd | SC | ST | OBC | GEN. |
| --- | --- | --- | --- | --- | --- |
| Girls | 100 | 13 | 02 | 18 | 67 |
| Boys | 100 | 20 | 01 | 14 | 64 |
NSS Day:
NSS was formally launched on 24?? September 1969, the birth centenary year of the Father of the Nation (Mahatama Gandhi).
24th September is celebrated every year as NSS Day with appropriate programmes and activities. NSS Objectives:
Understand the community in which they work.
Understand themselves in relation to their community.
Identify the needs and problems of the community and involve them in problem solving process.
Develop among them a sense of social and civic responsibility.
Utilize their knowledge in finding practical solution to individual and community problems.
Develop competence required for group - living and sharing of responsibilities.
Gain skills in mobilizing community participation.
Acquire leadership qualities and democratic attitude.
Develop capacity to meet emergencies and natural disaster.
Practice national integration and social harmony.



NSS Activities:

Regular activities are undertaken for all volunteers during the working days / weekends / after college hours in campus / adopted village (120 hrs per year).
It includes: meetings, expert talks, awareness rallies, street plays, field visits, field work like tree plantation, road safety, blood donation, etc.
Special camp activities for selected volunteers for 7 days duration in the adopted village for minimum 3 years. Daily routine starts at 5 am and ends at 10 pm.

Details of Programme Organized: 2019-2020

Social Media in national Interest Programme Amar Ujala on 24.7.19.
Governor House visit on 14 July 2019
Tree Plantation Programme with manager of THDC and Lions club on 10.8.2019
Cleanliness Programme (LoPNrk i[kokM+k) from 1.8.19 to 15.8.19
One day Camp In college campus au 24.9.2009 on N.S.S Day
Invited Lectures on N.S.S by recourses Dr. Brij Mohan Sharma was held on 30.9.19.
Participation on Environment Protection and Conservation Programme by 'SPECS' Organization. Nukad Natak' on 30.9.19.
One day camp/Cultural Programme/Seminarwas done on 9.11.19 on State Foundation day.
Participation in PTA Programme, and Seminar, entitled - Quality Enhancement and Innovation in Higher Education on 20.11.19.
Participation in Constitution day, & Seminar entitled fundamental duties on 26 Nov. 2019.
One Day Camp on AIDS awareness programme was held on 3.12.2019
Participation In Legal in 'Ek Bharat Shresth Bharat' on 30 November lecture on Democratic Awareness thought legal literacy on 4th Dec. 2019

Details of Programme Organized: 2018-2019

Participated in Yoga Divas with Honourable Prime Minister Shri Narendra Modi at F. R.I. On 21.6.18
Tree Plantation programme with Lion's club in college campus on 15 July 2018.
One day Regular camp on 24.9.18 on N.S.S Day. Cultural and cleanliness programme was done in college campus.
Regular Camps on 9.11.18 for State foundation Day.
AIDS- awareness programme on 1st Dec 2018 was done.
Sparsh Ganga Programme on 17th December 2018 was done near river Song.
Ayudh Programme on value education was done with the team of Kerela.
Vishakha programme for women (self defence programme) was done.
One day camp on swami 'Vivekanand Jayanti' was organize on 11 January 2019.
Red Ribbon programme (HIV AIDS) was organized on 11.1.2019.
Participate Yuva Diwas programme at Town Hall Dehradun on 12 Jan 2019
Participate State level programme of Red Ribbon educations and Essay competition on 12.1.19.
After Pulwama attack blood donation camp was done on 20 Feb. 2019
Visit to Shaurya Sthal on 20 Feb. 2019 with 50 NSS students.
Yuva Mahotsva -50 students Team joined it on Parade ground on 6th March 2019.
Beti-Bachao-Beti Padhao- District level programme on 7.1.2019
Participate Khelo-India programme and National level competition on 28.1.19. at SJRR, Dehradun.
Role of space Technology - in disaster Management (USAC workshop) 8 Feb. 2019.
USAC workshop.
Holi festival celebration on 16 March 2019.
National Youth participant festival 28 Jan. 2019.